I'm Shadetree Blacksmith. I have a shop on Etsy and this is my first blog post.
Today I want to tell you how to forge a cattail.
Materials list (mild steel):
33" long "stem" - 38" round stock tapered to 1/4" on top half
23" long "leaf" - 1/8 " flat stock, 3/4" wide at base tapered to a point
5" long "seed pod" - 7/8" od tubing or black pipe
Step 1: Forge stem- taper from 3/8" at base to about 1/4" at the top half and then to a point.
Step 2: Forge leaf- make a gradual taper from 3/4" wide at base to a point. Distress it with ball pein hammer.
Step 3: Forge seed pod with guillotine fuller hardy tool. For more instruction on guillotine fuller hardy tool go to anvilfire.com. Taper both ends of the 5" long seed pod being careful not to close ends completely so that you can slide it on the stem.
Tapering ends of the seed pod.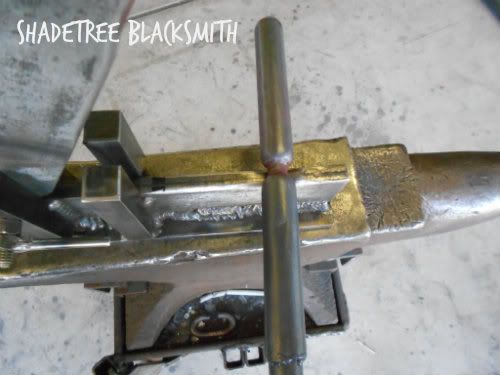 We can see how the tool tapers the ends of the seed pod.
This shows the guillotine tool tapering the ends of the seed pod.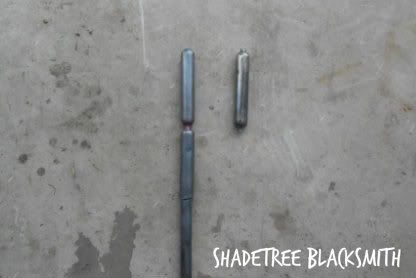 Seed pod formed at the end of the tubing before and after it is cut off.
Now we need to assemble the cattail.
Picture of seed pod assembled on the stem
Step 4: Drive seed pod onto end of stem until 2 1/2" of the stem sticks out the top. You can leave it friction fitted or weld the top and bottom of the pod onto the stem. I welded mine on.
Step 5: Heat the bottom 2 1/2" of the leaf and wrap around the bottome of the stem. Weld in place.
Now your cattail is complete!